No.1 Website Development Company In India
Every Website development project is unique. Basically, the friendlier it is to navigate a website for a customer, the more impressive it is for you as a start.
To make it a win-win for you at first glance, nothing works better than custom- web development solutions. Since it has to reflect your brand aesthetic and encourage your target audience to believe in you, we want to put all of the knowledge and experience to make it work!
Website Development Process We Follow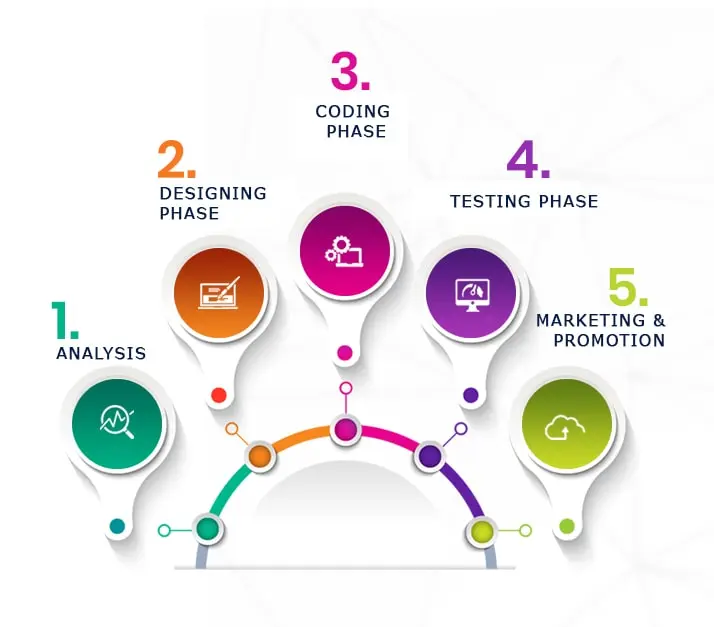 Analysis
Knowing what use the website will serve, is primary!
Information plays ideally in parts like the website's content, purpose, and target audience and will affect the choice of technologies by knowing what functionality is required in advance. We do it all beforehand that brings thought processes quite handy.
Designing Phase
In the Designing Phase, our creative team will work on structuring your ideas and discussions we had.
Once again, we ensure that the customer and target audience have been kept in mind while we work on a design.
Coding Phase
In this phase, the development team will work on the code of the website, implement functionalities and tools to your ideas and build a fully working website.
Testing Phase
After the website is developed and before sending it to the server, the testing team will test the website through several meticulous tests and ensure that there are no bugs or issues.
Marketing And Promotion
There is still more to be done after installing a website such as a website maintenance, general updates, or even adding new features. We are fully accomplished to provide expert services in website marketing and promotion through our in-house marketing specialists.